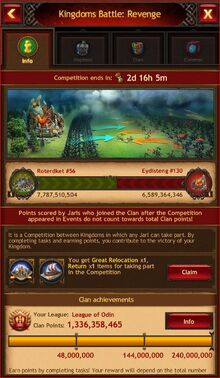 Great Relocation
Use this to port your town to the other kingdom during a Kingdoms Battle. or Kingdoms Battle: Revenge.
This item are found under Items -> Bonuses. In the first KvK it cost 50 Gold coins (Gc) to procure. With the 3rd KvK (June 17, 2016) the cost was raised to 3000 Gold. The current cost (Jan 13, 2017 are 1500 Gc). In the clan store this costs 17500 Loyalty Points. You can also claim one free Great Relocation and one Return in the battle announcement (see picture) during the period from it is announced until KvK/KdR is finished. You can save this for another KvK later.
You will also be offered to buy and apply if you select a free tile in the other kingdom that your are competing against.
Your normal location in your own kingdom will be reserved for your return with a ghost town image that blocks your tile.
See also Return port.